SNEAKY TIPS FOR SMALL A SPACE
Organizing a small space starts well before you move in. when living in small spaces, it's important to find furniture that is in scale with the size of the room. Start preparing for your move by measuring your furniture to see if it fits. Because small spaces are very limited, you need to figure out your priorities and allocate accordingly. Some people need a desk area, but not a dining area. Some people want a living area and would prefer a bed that folds up. Make the space work for your needs and don't hold yourself with traditional dwelling arrangements. After all, it's your home. Learn all you need to know about space planning at Simplinteriors School of Interior Design and Entrepreneurship, one of the top Nigerian schools of interior design and entrepreneurship.
Sometimes living in a small space is not a bad idea. You can become more creative to utilize all the spaces more efficiently. Even you live in big space, some of the ideas and tips can still be used to take advantage of some "corners" of your place. Here is a roundup of small space storage ideas and hacks that you can use to boost up the efficiency of your space.
1. Utilize wall space with a high shelving unit. Many people overlook this great space in between the couch and ceiling. Install some shelves, and you have a great at home library.
2. If you don't have the space for a dining room, turn an in table into a really chic eating space. It's great for movie nights or sporting events, you don't even have to turn to see the television.
3. If you have this area, use the space under the stairs to store clothes, decorations, or anything else. This bookshelf is great.
4. Use all wall space for storage
5. You can never have too much storage space. Especially in small areas! Turn your bed into a storage area. No one will even know what you have hiding under there.
6. If installing shelving above your couch was not meant for you, install shelves into corners instead. Corners are often an overlooked area when decorating, and it is often unused.
7.Use the space behind your doors to hang towels, store shoes, or other items. Think of the closet space this could create.
8. Mirrors make any space seem larger. Install large ones on a focal wall and your room will appear much bigger.
9. Choose smaller furniture when outfitting your space. Pick pieces that have smooth lines.
10. Page boards are a great way to maximize the storage capacity throughout your home. They look great too.
11. Use your walls as a storage space. Hang baskets or other items on your wall, for a fun and functional look.
12. Install a pull down desk to do your work on. It collapses easily and looks great in use or folded up.
13. Turn your kitchen counter top into a cute and functional storage area. Be sure you don't over-store on your counter top
14. If you live in a studio apartment, or have children that share a room, turn a curtain into a great room partition.
15. Install a rod and hang your cooking utensils as a kind of art decor back splash. Use all the space you have available.
16. If you have a small bathroom, floating shelves could be the solution to your worries. Store your products on the shelves.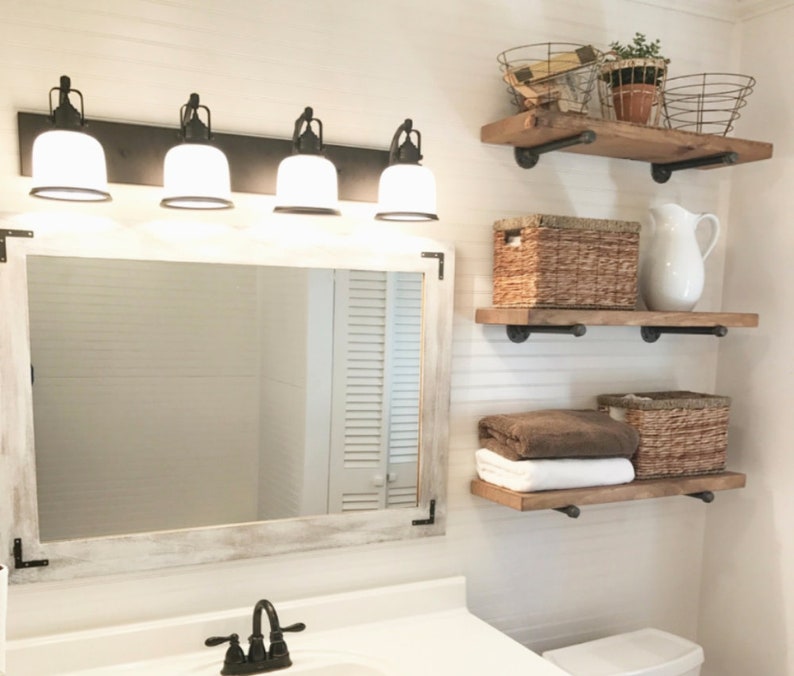 17. Shelves can be put anywhere, even over your sink. Perfect for toothbrushes, soap and other bathroom necessities.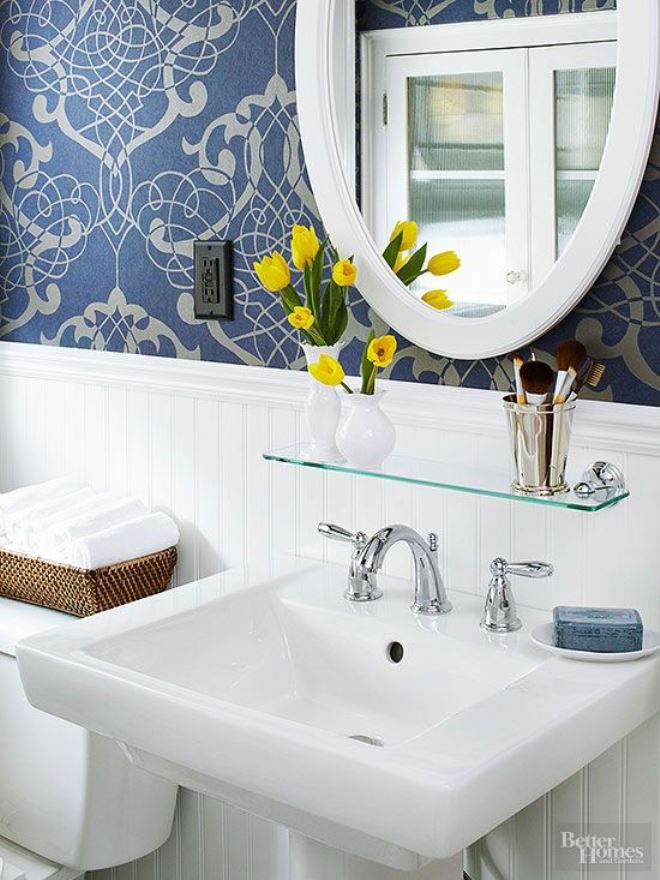 18. Choose furniture pieces that have multiple uses.
19. Avoid clutter! When living in a small space, an accumulation of clutter can really make your space look smaller.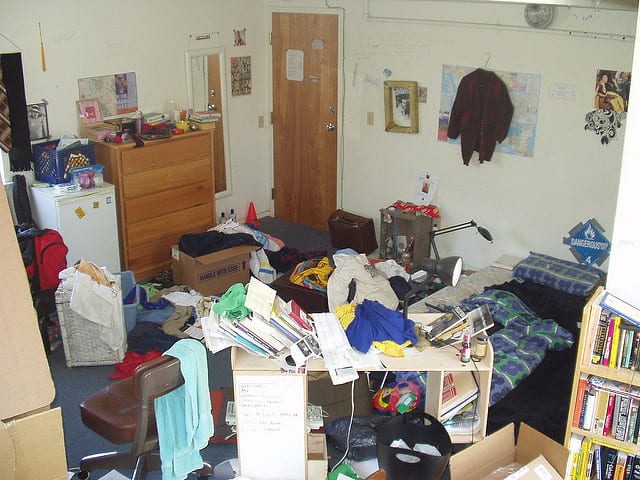 20. If you live in a tiny apartment or home chances are, you don't have a ton of closet space! Be creative with your closet, and maybe even embrace one on wheels.
21. If you are lacking bathroom space, and none of the storage options mentioned work for you, consider using a shower caddy to store your products in the shower. This makes for easy access.
22. Turn your coffee table into a clever way to store DVDs, blankets, and other items.
23. If your goal is to have a library, this tip is for you. Install shelving along the top of your walls. This opens up floor space, and is a great way to store your books and knick-knacks.
24. If a nightstand is simply too large for your space, it might be a good idea to install a small corner shelf. That way, you have a bedside spot for anything that you might need. What a perfect spot for that novel you are reading.
25. Towel rods can take up a precious amount of space in a small bathroom. If you lack space in your bathroom, consider installing your curtain rods behind your doors. If you don't want to screw in a rod, look for one that goes over your door. That way, there aren't any unsightly holes.
26. If that space between your refrigerator and wall is going unused, make a pull-out-cabinet. What a great way to increase pantry storage.
27. Command centers are a great way to keep a busy life organized. Use a small, unoccupied wall in a central point of your home to create this amazing small-space command center.
28. There is literally a shelf for everything, install a shelf above your bathroom door to keep things like spare towels and toiletries.
Small spaces don't have to be the end of your decorating creativity. You can do plenty with any sized space. Hope you learnt some amazing decorating tips from this post to make your small space look absolutely incredible. Take a great leap in your career!! Enroll for a rewarding career in interior design and entrepreneurship at Simplinteriors School of Interior Design and Entrepreneurship located at no 71, Falolu road off Ogunlana Drive, Surulere, Lagos, Nigeria.
If you would like to have your products made to your specific requirements, please contact us at Simplinteriors Furniture store one of the best and affordable furniture store located at no 27, Akerele road off Ogunlana Drive, Surulere, Lagos, or no 7, Taiye oluwu street off Admiralty Way, Lekki phase 1, Nigeria or call us on 08123020337, 09090008527 to talk to us. You can also visit our online showroom to view our furniture collections @www.simplinteriors.com/shop.